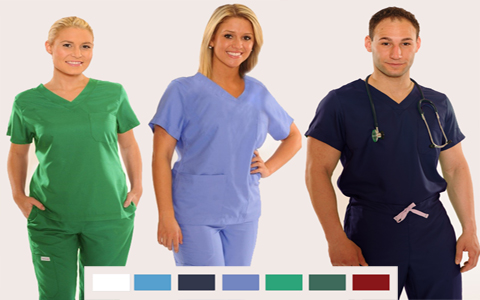 The Ultimate Performance Scrub for Your Work Environment
Performance Ready
With unmatched antimicrobial lifetime performance, superior odor control and natural thermal comfort SilverCare Plus is the ultimate performance ready scrub for your work environment.
Superior Comfort
Available in two premium blends – luxuriously smooth poly and soft poly/cotton – we wanted to offer you the very best fabric choices for optimal touch and feel comfort.
Stylish Form & Fit
With a slight pant flair for women that never goes out of style and a more standard pant for men, complimented by our gender sizing, SilverCare Plus will always provide you with a fabulous form and flattering fit.
Work Functional
With a choice of both five or seven deep functional pockets, including two Velcro closures and two side slit pockets, we are happy to provide you with a true performance scrub with real work functionality.
---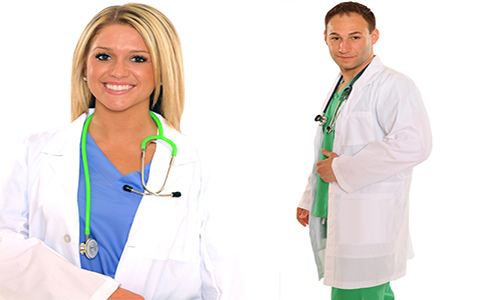 A Combined Level of Style, Comfort and Performance not found in Traditional Lab Coats
Barrier to Bacteria
SilverCare Plus Lab Coats have been engineered to continuously inhibit the growth and spread of surface bacteria which has been scientifically proven to easily contaminate today's standard lab coats during normal clinical use.
Style and Function
With a four button front closure, side vent access, a notched lapel collar and three outside pockets we've also included two functional and secure inside pockets for personal effects and tablet devices.
Optimal Comfort
Our superior thermal comfort and advanced odor control features will keep your lab coat feeling fresh and looking like new. With minimal shrinkage, and layering easily over scrubs, you can always rely on our lab coats to provide you with optimal comfort.
---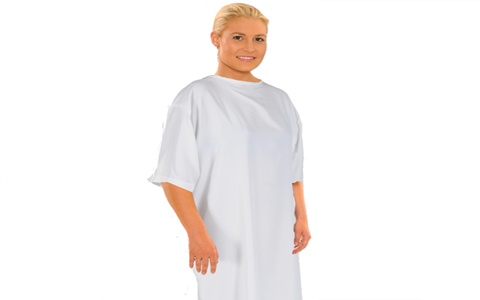 Durability and Comfort with Unmatched Performance
SilverCare Plus antimicrobial patient gowns are extremely soft to the touch and deliver superior antimicrobial performance, odor control and excellent thermal comfort. SilverCare Plus antimicrobial patient gowns are available in both traditional center tie and full overlap side tie which are generous in both sweep and length for both patient comfort and avoiding accidental exposure. With unmatched lifetime antimicrobial performance and superior fit and feel SilverCare Plus is an important addition to every patient's environment.
---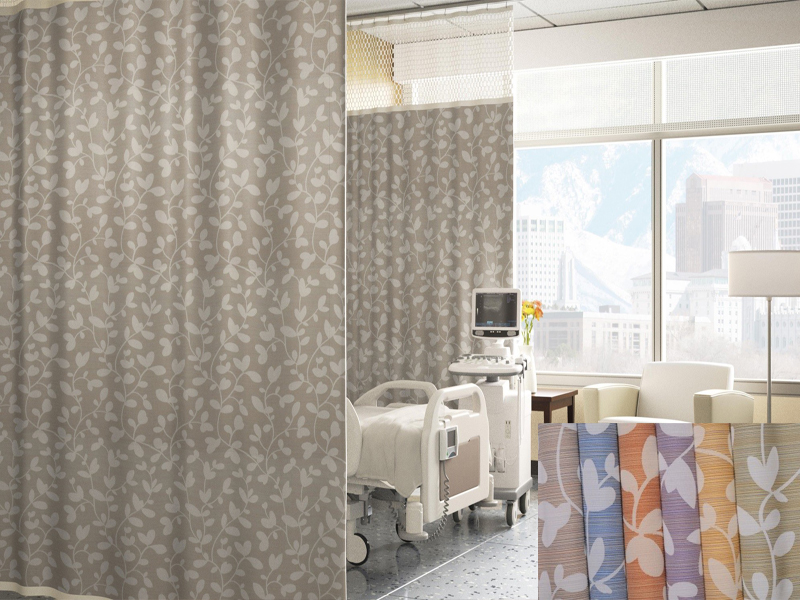 Healthcare curtains that perform
Permanent Antimicrobial Performance
SilverCare Plus fabric is interwoven with X-Static antimicrobial silver yarn which does not diminish over time. In fact, SilverCare Plus cubicle curtains have undergone antibacterial testing after 200 commercial launderings and have successfully maintained a 99.9% efficacy rate with virtually no reduction in performance.
Custom Designs
From hospitals, nursing homes, assisted living, dialysis, physical therapy facilities, and private clinics SilverCare Plus reusable antimicrobial curtains are ideal in any health care environment, Available in an array of durable colors and designs, SilverCare Plus can be customized to match your facility's theme and style.
Safety
SilverCare Plus curtains can be constructed with various fire retardant materials which are in accordance with both North American and European fire retardant standards.
---

The Challenge
No matter how meticulous the infection control and cleaning protocol are for soiled sheets, as soon as clean sheets are put back into use they immediately become contaminated and the opportunity for the spread of bacteria causing infections is reintroduced.
The Solution
SilverCare Plus bedding is clinically proven to continuously eliminate 99.9% of bacteria which comes into direct contact with the linen surfaces between regular scheduled launderings. Available in standard hospital sizing, our percale cotton and soft poly blends offer minimal shrinkage, optimal comfort, superior breathability, contributing to an overall healthier and more therapudic rest environment for patients.
---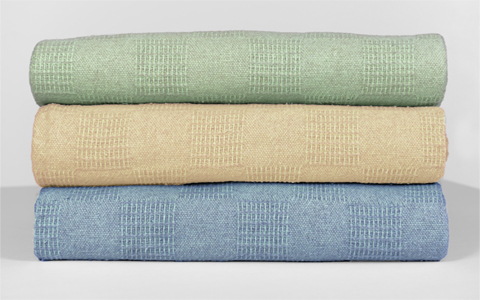 SilverCare Plus Thermal Hospital Blanket
It has long been acknowledged that hospital sheets and blankets can play a significant role in both harboring and spreading hospital acquired infections (HAIs). Soiled sheets and blankets constitute one of the largest concentrations of microbial contamination in the hospital environment and effectively addressing this challenge is a critical part of any infection prevention program.
We keep you covered the right way
SilverCare Plus 100% cotton thermal hospital blankets are a vital component in any hospitals bacteria-reduction strategy. Our thermal blankets effectively and continuously eliminate 99.9% of bacteria which comes directly into contact with the blanket surface between launderings. With a tightly weaved checkerboard design, SilverCare Plus thermal hospital blankets provide minimal snagging, are anti-static and have thermo regulating features making them the ideal choice for patient warmth, comfort and protection.